welcome!
Join us for an unforgettable day of wine, food, and fun at Pride n' Vino (formerly Pinot On The River)! This in-person event will take place on
Saturday, October 7, 2023
, on the beautiful Old Courthouse Square in Santa Rosa, CA.
Get ready to indulge in a delightful selection of wines from renowned wineries across the region. Sip, savor, and discover new favorites as you mingle with fellow wine enthusiasts and winemakers.
Sonoma County Pride is thrilled to have Sonoma County native, Ellie James, will be joining us for an unforgettable day at Pride n' Vino 2023 (Formerly Pinot On The River)! 🎉 Sip your favorite wine and get ready to sway to Ellie's unique blend of lush indie-pop sounds and rock 'n' roll edge. 🎶🎸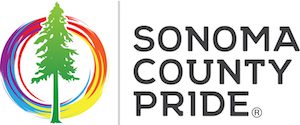 Pride 'N Vino™ is a benefit for Sonoma County LGBT Pride, which is dedicated to
enhancing the lives and well-being of our Lesbian, Gay, Bisexual, Transgender, Queer,
Intersex (LGBTQI) community and allies throughout Sonoma County. They promote
equality for all through education and activism, while serving as a liaison with
government, businesses and other organizations on behalf of our community. They
recognize and celebrate the history, achievements and contributions of the LGBTQI
community of Sonoma County.